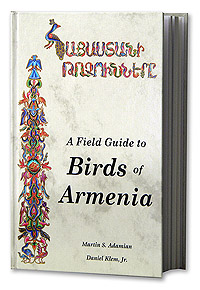 The Birds of Armenia Project was instituted with the goal of promoting conservation awareness in Armenia and introducing its rich natural treasures to the world. It is hoped that through the project's publications (the Field Guide, Handbook, and the Map - available for purchase online) people throughout the world will gain an appreciation for these irreplaceable resources.
A Field Guide to Birds of Armenia clearly and effectively documents the bird life of a region largely unknown in the West but richly endowed with biological and cultural diversity. Here an international team of expert ornithologists shines the international spotlight on the fascinating birds of Armenia in one of the world's newest and very best regional field guides.The authors and their expert collaborators describe the beauty and pleasure of Armenian birds and their diverse habitats. No other work offers such effective descriptions of Armenian birds. The detailed knowledge of species distributions and relative abundances will promote and ensure wise stewardship of birds as a valuable Armenian natural resource. An especially valuable contribution is the identification of species that are suspected or known to be at risk. Highlighting these species of special concern will encourage Armenian as well as international conservation efforts to maintain and,when appropriate, rebuild viable populations to these lands.
Special thanks are due from the world community of bird conservation to the team members who devoted their time and expertise to the writing of this attractive and authoritative book. I can think of no better or more timely way to enhance environmental awareness in the new and emerging nation of Armenia. Every contributor should be proud of this contribution to Armenia: its birds, its people, and any others who will visit its spectacular landscapes. A Field Guide to Birds of Armenia does what books of this type do best. It opens new and exciting worlds to more people. It offers fundamental knowledge to help ensure that these exquisite animals will enrich the lives of future generations of Armenians. This book thus joins an elite library of works that contribute magnificently to avian conservation and regional environmental health. ---- Frank B. Gill, Ph.D Senior Vice President for Science, National Audubon Society New York, New York (USA)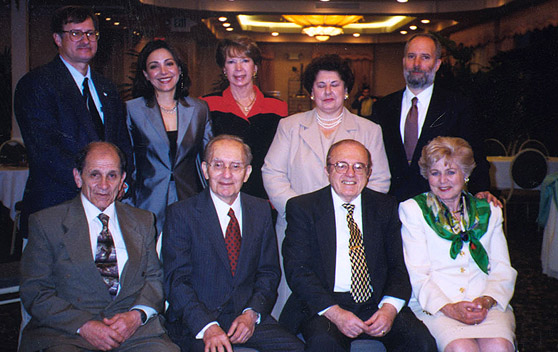 A Field Guide to Birds of Armenia book release in Los Angeles, CA. Standing (L-R): Daniel Klem, Helen Acopian, Bobbye Acopian, Georgia Hariton, Jeff Acopian. Sitting (L-R): Martin S. Adamian, Sarkis Acopian, Mihran Agbabian, Elizabeth Agbabian.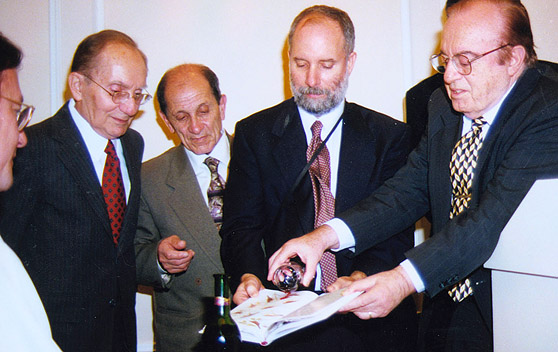 Former American University of Armenia President Mihran Agbabian pouring red wine into the book as a symbol of well wishing.